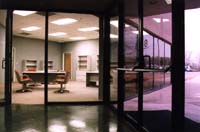 Front Entrance Foyer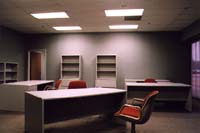 Group Office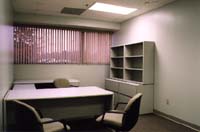 Single Office
There are no load bearing walls. Walls may be moved or eliminated to meet tenant needs.
All columns on 25' centers.
First floor contains approximately 80,000 square feet of available space in suites ranging from 500 ft2 to 11,000 ft2. Floors two through five contain approximately 21,000 ft2 and there is a Luxury
Penthouse with approximately 4,000 ft2.
All utilities to building are buried.
Heat and air provided by 64 separate water resource heat pump units which can be individually controlled by in-house Andover Energy Management System.
Building ground rated at 99.99% using building and buried ground field which is protected by ground fault breaker system to main panels.
Building fully sprinkler protected with heat on rise sprinkler heads.
Ceilings are 9' minimum with some areas to 10'.
Protection from power outages provided by 550 KVA CAT generator currently at 30% capacity load. Generator fed by 1,000 gallon above ground diesel tank which would provide 72 hours of constant running without refueling.
Fire rating of facility is extremely low due to construction materials used, fire protection available, sprinkler system and stand pipe system with 125 to 140 lbs. of water pressure.
First floor contains 7 exits for emergency evacuation.
Building protected by ADT Corporation for burglar and fire.
In-house security system includes security camera monitoring, security card reader access on all exterior doors and some selected interior doors, 24 hour security/maintenance personnel.
Facility is located in Sherwood, rated as one of the safest cities in Arkansas.
All existing hallways are 8' wide.
Above ceiling UL approved aluminum cable trays available for installation of data and telephone lines.
900 parking spaces available for tenants with full security lighting and appropriate handicapped designated spots.
The entire building is handicapped accessible including parking, ingress and egress, restrooms and elevators.
Loading docks are fully covered with capacity for 3 sen-d tractor trailers and one pick-up truck.
Upper floors serviced by 4 hydraulic elevators with hospital sized cars and 3 stairways (2 for emergency exit and 1 for tenant use).
All glass is thermal double paned.
Tenant could have access to internal telecommunications systems consisting of a Northern Telecom SLl and a NEC NEAX 2400 utilizing diverse routed fiber optic service currently providing 624 lines (outbound and inbound), voice mail, Interactive Voice Response unit with 48 inbound channels and 12 outbound channels for 800 or 900 service. Service currently supplied by AT&T and LDDS.
Vending service is provided by Interstate Vending Company.
The onsite Wildwood Child Nurturing Center has expanded to 200 child capacity and serves children ages 6 weeks to 12 years with transportation available to and from selected local schools for all school age children.
The facility is located immediately off Interstate 67/167 approximately 1 1/2 miles from Interstate 40, 8 minutes to downtown Little Rock, 20 minutes to the Little Rock International Airport, 1 mile from Arkansas' largest shopping mall-McCain Mall-and is surrounded by many restaurants, motels and other shopping and service stores.
Businesses located in Sherwood enjoy lower Privilege License fees, lower business license fees, lower city sales taxes, lower utility costs and no city tax on long distance telecommunications usage.
Lease rates in the Wildwood Centre range from $14.00 to $18.00 per square foot for full service with ability to negotiate depending on size and term required or if tenant does not wish full service contract.